Ford Escort Mk2 Gr4 NO WELD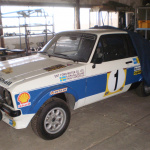 Vintage looking Ford Escort Mk2 Gr4 for sale. It's absolutely in original state, no welding was made.Completely new front and rear suspension. Original parts from the 70's as well. Rust free Gr 4. bodyshell with new livery.
If you are interested, please write us an e-mail with your offer to sales@historicrallye.eu
Please give some time the gallery to load!