FORD ESCORT MK2 2.0 PINTO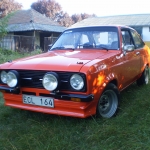 Ford Escort Mk2 with 2.0 Pinto (standard) engine for sale!
This car was a 1.3GL from '78 and was fully renewed, no rust, new paint, new body parts, never used since renovation. The car has the originial expired 1.3GL papers. The renovation process is fully documented with lot of pictures, no surprise.
This car is ideal for those who want a powerful and stylish legendary car: you just sit in, turn on the engine and enjoy the ride what a rear drive car can give you!
Ideal street car with decent power! Offers accepted!