Rear suspension
Historic Atlas Axle
made by GRP4 FABRICATIONS, Galway, Republic of Ireland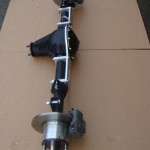 This spec axle includes the following:
Thick tubed FF atlas axle Casing with All brackets welded (54″ wide).
ZF LSD(18T side gears)
Choice of 4.6 or 5.1 CWP (Top quality) Properly meshed and assembled using top quality Timken Bearings.2 piece shafts and flanges.
FF alloy huds,FF Studs and nuts,Seals, etc
10mm alloy axle brace.
Historic Ap 2 pot caliper and 267*11mm solid discs.
All finished to a very high standard(as in the picture) for years of reliable competition.
Axle can be made to customers required lenght at no extra cost.
Mk1 anti tramp kit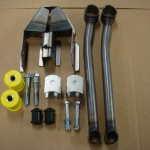 with Superflex large bush
Photos and descriptions under permission of GRP4 FABRICATIONS, Galway, Republic of Ireland.