Ford Escort Mk1 Gr2 "gartrac historic spec"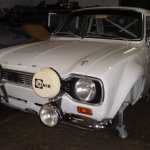 Ford Escort Mk1 Gr2 "gartrac historic spec" fabricated bodyshell for sale, built to meet FIA 1605 homologation. 
This shell is a unique work as it is completely rust free, was completely striped and cleaned before paint. Fully documented working process, high quality welding, new body panels.
Detailed parts list:
– grp2 historic spec bodyshell (FIA 1605) with short link
– rollcage, painted into white
– headlights
– indicator lights
– rear lights
– front grille
– windscreen wipers
– rear view mirrors
– locks, door handles
– tank platform, battery holder, dry sump platform, spare wheel holder
– seat mounts
– steering wheel
– interior switch panel
– chrome bumpers front, rear
– bonnet pins, trunk springs
– chrome FORD and Escort labels
– fuel, oil, drysump connectors – welded
Please give some time the gallery to load!